ABI Participates in Department of Energy Roundtable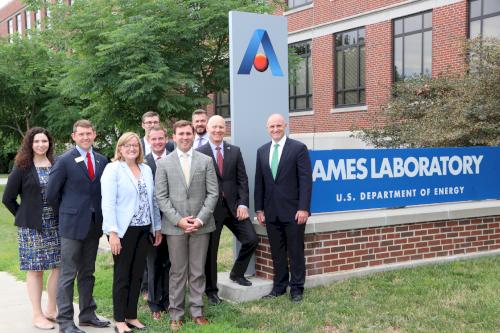 ABI Director, Public Policy Brad Hartkopf joined Daniel Simmons, assistant secretary for the U.S. Department of Energy's Office of Energy Efficiency and Renewable Energy (EERE), and others for a tour of the Ames Laboratory on Tuesday. Following the tour, there was a roundtable discussion about key issues for the advanced manufacturing industry. The roundtable was moderated by Ames Lab Director Dr. Adam Schwartz, and some of the topics included manufacturing competitiveness, critical materials and advanced manufacturing technologies, workforce and trade.
Attendees and panelists besides ABI included Assistant Secretary Simmons, Iowa State President Dr. Wendy Wintersteen, Iowa State Senior Vice President and Provost Jonathan Wickert, the Iowa Economic Development Authority, industry representatives, staffers from the offices of Sen. Grassley and Sen. Ernst, team members from the Ames Lab and staffers with the office of EERE.
President Wintersteen kicked off the meeting with introductory comments about the Ames Lab and the outcomes they are seeking from the work it's performing. Assistant Secretary Simmons spoke about the goals of the office of EERE including affordable energy, the integration of technologies and energy storage. He also spoke about the challenges and importance of critical materials and the vital role the Ames Lab plays in regards to that subject.