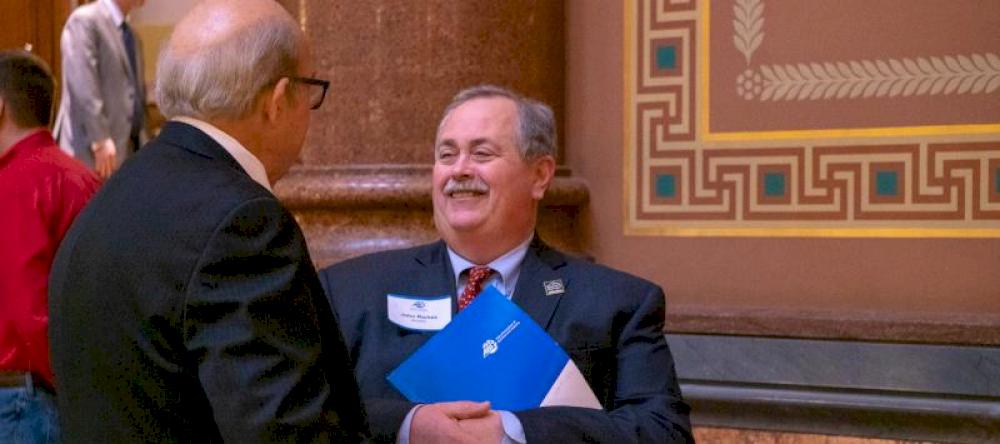 Iowans For Jobs Initiative
What is the Iowans for Jobs Initiative?
The Iowans for Jobs Initiative is the public policy education arm of the Iowa Association of Business and Industry. The goal of the non-partisan Iowans for Jobs Initiative is to advocate and educate about the importance of pro-jobs, pro-business legislation for all Iowans. The initiative is not a political action committee and does not endorse candidates or give directly to state or federal campaigns. Learn more about the Iowans for Jobs Initiative.
What types of contributions are accepted?
The Iowans for Jobs Initiative accepts both corporate and individual contributions. The contributions are not tax deductible.
How do I invest in the Iowans for Jobs Initiative?
You may contribute in two ways:
Write a check to:

Iowans for Jobs Initiative
400 East Court Ave., Suite 100
Des Moines, IA 50309

Online via credit card
If you need a W-9, please contact ABI at 515-280-8000.
Make your contribution online now:
Fields marked with an asterisk (*) are required.
What campaigns have the Iowans for Jobs Initiative supported in the past?
When it comes to standing up for Iowa businesses and advocating on your behalf, ABI is always on the front lines. The organization has played a key role in defending against bad-for-business legislation and advocating for regulatory reforms. ABI also puts forth legislation and proposes updates to Iowa law that can help businesses reinvest, retain and recruit workers. ABI also has a robust Get Out the Vote effort educating employees and the public in Iowa about the importance of voting and asking questions about jobs that affect Iowa's economy.
2014 Midterm Elections GOTV
For the 2014 Midterm Elections, ABI conducted a Get Out the Vote campaign that encouraged voter participation and identified legislative candidates with strong records of supporting business.
ABI invested in a digital ad campaign that garnered more than 1.4 million views on Google, Facebook and Twitter. These digital ads directed users to ABI's website where they could review legislators voting records on business issues.
ABI created targeted messaging recognizing candidates in three Iowa Senate and five Iowa House races. The campaign also included general GOTV messaging.
Property Tax Reform
Iowa's property tax system is unfair for Iowa businesses. During the 2011-2013 legislative session, ABI supported education messages about the importance of property tax reform for Iowa businesses. The property tax legislation passed in 2013 and is considered an ABI legislative accomplishment.
Iowans' Right to Work Threatened
ABI led a coalition of pro-business organizations from 2007-2010 to fight back bad-for-business legislation. One key piece of legislation that was under attack was Iowa's Right to Work law. Iowa business leaders wanted to protect employees' paychecks and stop Right to Work repeal. The successful defeat of Right to Work repeal is a legislative accomplishment for ABI.