ABI Joins Governor, Legislators at Tax Reform Bill Signing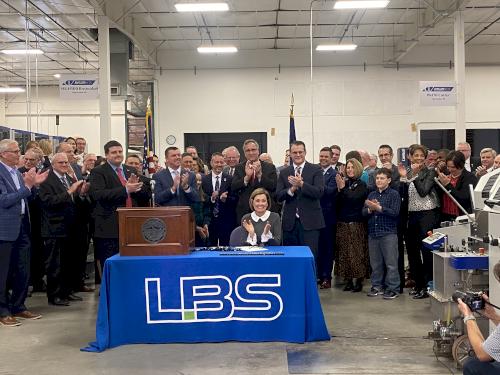 On Tuesday, March 1, 2022, Iowa Governor Kim Reynolds held a signing ceremony for HF 2317, a bill that reforms and reduces individual and corporate income taxes in Iowa. The event was held at LBS, a bookbinding and packaging company based in Des Moines. 
Instead of several progressive tax rates that charged businesses and individuals higher rates on higher levels of income, Iowa will now transition to a flat single rate for both of these types of income tax payers. The change in taxing philosophy intends to reward work instead of taxing the next increment of income at higher rates. The bill also dramatically cuts individual tax rates from a current rate of 8.53% to a flat 3.9% in 2026. Corporations will also see reduction in tax rates over time, finally settling on a single flat rate of 5.5% for all corporate income taxpayers.
Mere hours after signing the legislation, Governor Reynolds trumpeted the tax cuts on national television in a response to President Biden's State of the Union Address. It is hoped that the juxtaposition is an invitation to individuals and businesses to take notice of Iowa when considering where to start or expand business and where to live, work and retire.
You can find the division-by-division description of the bill here.
Photo Source: Office of the Governor