Rick Tollakson Honored with Leadership for Iowa Award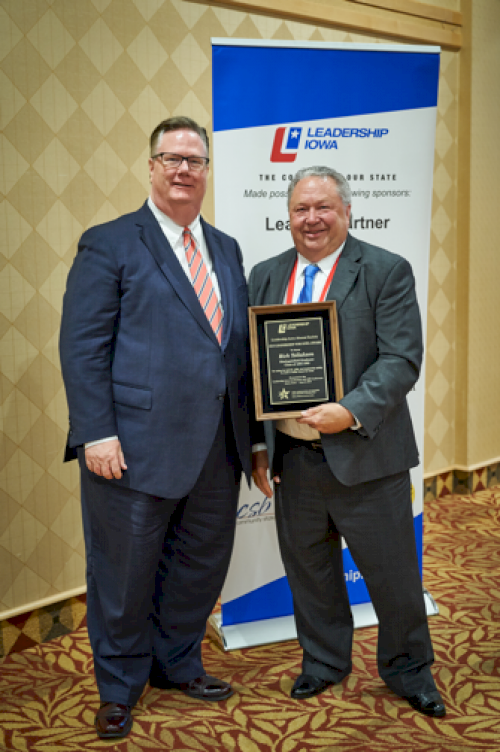 Leadership Iowa has named Rick Tollakson of Des Moines as the recipient of its annual Leadership for Iowa Award. The award honors a distinguished alumnus of the Iowa Association of Business and Industry (ABI) Foundation's Leadership Iowa program. Tollakson was a member of the 1992-93 Leadership Iowa class. He received the award on June 6 at ABI's Taking Care of Business Conference in Ames.
Tollakson has been dedicated to serving Iowa for more than 35 years. After graduating from Iowa State University, he immediately dove into the real estate industry and was promoted to president and CEO of Hubbell Realty Company in 2004. Since taking on the leading role at Hubbell, he has been responsible for tremendous growth.
The most meaningful examples of this for Tollakson have been the "Hubbell Extreme Builds," where a deserving charity, company or family is chosen for the build. It began in 2006, when Hubbell built a home for a Tama County family following a fire. It continued with constructing 9 Homes in 9 Days for Anawim, rebuilding Easter Seals Camp Sunnyside's dormitories in one week, and most recently, building the new Ronald McDonald House of Central Iowa in just 11 days.
Tollakson has also been a forerunner on the redevelopment of downtown Des Moines and the revitalization of downtown corridors, and has been an advocate for Iowa waterways by leading the steering committee for the Des Moines Area Metro Planning Organization Water Trails and Greenways Master Plan.
Tollakson is a driven leader who creates opportunities for growth through the needs he sees in Iowa communities every day. In many cases, his strong belief in building the community through volunteering overlaps with his professional work.
"Rick doesn't just talk, he leads by example," said ABI President Mike Ralston. "He thinks big and brings everyone along to make Iowa better."
In 2017, Tollakson was awarded the National Association of Regional Councils (NARC) John Bosley Leadership Award and the Planning Advocate Award from the Iowa Chapter of the American Planning Association. In 2018, he received the American Planning Association's National Planning Excellence Award for a Planning Advocate, a prestigious national award. Also in 2018, Hubbell Realty Company was awarded the 2018 Better Business Bureau Torch Award for Ethics for Tollakson's and Hubbell's work within the community.
Tollakson continues to serve on numerous boards that directly affect Iowa communities and beyond such as Iowa Association of Business and Industry, Greater Des Moines Partnership, Central Iowa Water Trails, PlanDSM, Urban Land Institute Community Development Council, Big Brothers Big Sisters of Central Iowa, and National Association of Homebuilders.
Recipients of the Leadership for Iowa Award must show a demonstrated commitment to serve Iowa, have held a leadership role volunteering for civic or professional organizations, have demonstrated the ability to lead on difficult or controversial subjects, and be involved in projects designed to enhance the quality of life in Iowa. Honorees also must have held a professional or volunteer leadership position that contributes to local or statewide leadership development.