Interpower Corporation's Move to Iowa: A Journey of Success and Dedication
July 17, 2023 | Nicole Crain, Executive Vice President, ABI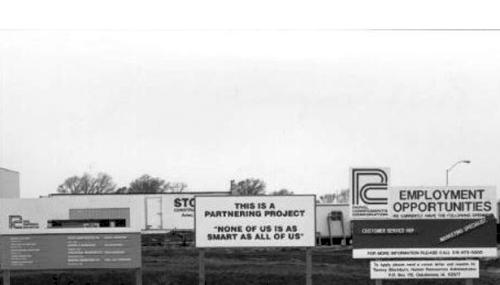 Earlier this spring, we began recognizing membership anniversaries each month in ABI's Member Monthly newsletter. This month, we highlighted Interpower Corporation in Oskaloosa, who is celebrating 30 years as an ABI member.
Bob Wersen, a valued ABI Past Chair, as well as a Foundation and IIPAC investor, shared the story with me about bringing his company to Iowa in the early 1990s.
At ABI we know how much you enjoy hearing about your colleagues from around the state, and I wanted to share with you Bob's story. Bob, Sharman and the entire Interpower team, thank you for investing in ABI from the early days of your organization!
In the words of Bob Wersen who moved the company from California to Iowa:
We first hired an Iowa financial controller and bookkeeper in November 1992, and they moved out to Santa Rosa to keep our finances under control. The next group of Iowa employees started March 15 and included our Manufacturing Manager, Supply Chain Manager, and two warehouse employees. They went out to Santa Rosa on March 15 to learn the ropes. Then, we hired 12 Customer Service Reps in Oskaloosa who started on May 10. We also opened our warehouse on May 10. 
Everyone in Santa Rosa (both Iowa and California employees) loaded trucks, and the warehouse contents, manufacturing, financial records all arrived in Oskaloosa over a 4-5 day period with the Customer Service Reps meeting and unloading trucks. They all learned how to use pallet jacks and forklifts. And, all of the Iowa employees returned to Oskaloosa and were setting up their desks on Monday, May 10. We were actually shipping again by Wednesday, May 12. 
There was no manufacturing until August, but accounting and a couple of other office functions were set up in the warehouse. The customer service reps worked initially in the warehouse learning all the parts and most of them moved out to California in early June for their final customer service training. By the way, the warehouse didn't have any restrooms so we all used the Kybos we rented.
On July 26, the offices were finished and everybody moved back from California. All of the California staff had moved on by that time.
In September, I got about four calls from different sales reps and major customers telling me that my idea of moving the company was going to cause a disaster and that our service had never been better. I was really puzzled so I asked which employees had so impressed them. Every one of the employees they named were Iowa employees! I told them that we had fully moved by late July and they were pretty surprised to say the least. 
Of the earliest employees, the bookkeeper, manufacturing and supply chain managers are all senior members of the Interpower staff.