Wall Street Journal Columnist Peggy Noonan to Headline ABI's Annual Conference in Ames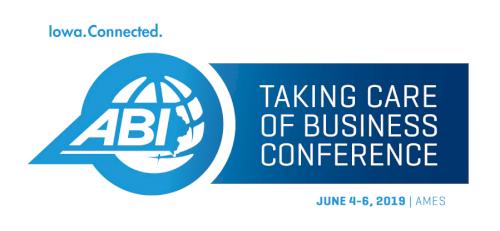 Pulitzer Prize-winning Wall Street Journal columnist Peggy Noonan will headline the Iowa Association of Business and Industry's (ABI's) 2019 Taking Care of Business Conference, June 4-6, in Ames. The conference is expected to draw 1,000 business leaders to venues including Hilton Coliseum and the Sukup End Zone Club at Jack Trice Stadium.
"This year's conference will be bigger and better than ever," said ABI President Mike Ralston. "This conference has it all—Iowa's best business networking; exciting venues, especially for Iowa State and sports fans; and popular speakers."
The Taking Care of Business Conference is Iowa's premiere statewide business conference. It brings together the state's most influential industry leaders to learn, network and share ideas on growing Iowa's business climate.
The keynote speaker will be Peggy Noonan, a Pulitzer Prize-winning columnist for the Wall Street Journal, where her weekly column, Declarations, has run since 2000. She is also the bestselling author of nine books on American politics, history and culture.
Additional speakers include Paul Shirley, author and former NBA and Iowa State University basketball player, and Rowena Crosbie, author and top-rated speaker and trainer.

Iowa business experts will also lead workshops on topics including opportunities to grow your workforce and how tax reform impacts your business.
"We're proud to bring the Taking Care of Business Conference to the Ames area," said ABI Board Chair David Bywater, president of Bankers Advertising/Tru Art in Iowa City. "The Cultivation Corridor is a stellar showcase for innovation and growth in agbioscience, biorenewables, biotech and advanced manufacturing industries."
Attendees will enjoy regional gems, including the gorgeous Ames Golf & County Club, the magical Hilton Coliseum and the hallowed home of Iowa State football, Jack Trice Stadium. They will also have a chance to participate in exclusive, one-of-a-kind tours, including Danfoss/Martin Marietta, Kreg Tool/Bayer Crop Science, the ISU Research Park (Boehringer Ingelheim, Vermeer, Workiva), the Iowa State University Industry Labs with CIRAS, and the USDA National Centers for Animal Health and ISU College of Veterinary Medicine.
Companies of all sizes are encouraged to bring their leadership teams to take advantage of the strategic, high-quality programming. Learn more and register by visiting www.ABITakingCareOfBusiness.com.