Steven Bradford Elected Chair of ABI Board of Directors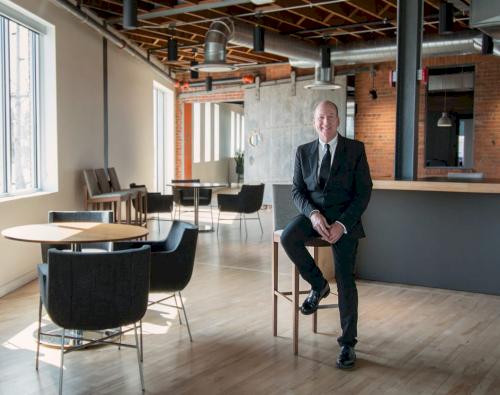 Steven Bradford of HNI Corporation has been elected chair of the ABI Board of Directors for the 2020 fiscal year, which begins July 1. Members unanimously elected Bradford during ABI's 117th annual meeting on June 29.
"Steven Bradford's strong, thoughtful leadership ensures ABI will have a successful year," said ABI President Mike Ralston. "His focus on principled business decisions and what is best for Iowa will mean terrific things for ABI and for our state."
Bradford is senior vice president, general counsel and corporate secretary of HNI Corporation in Muscatine. HNI is a manufacturer of leading brands supplying the workplace furnishings and building products marketplaces. He is active on numerous boards and commissions in Iowa and nationally, including the Iowa Access to Justice Commission and the American Law Institute. 
As chair, Bradford is responsible for leading the board in developing ABI's strategic goals and objectives, implementing them and communicating ABI's mission to Iowans.
Additional officers elected included:
Jack Hasken (Jackson Manufacturing, Maquoketa) – Vice Chair
Kim Augspurger (Saxton, Des Moines) – Treasurer
Richard Phelan (LyondellBasell, Clinton) – Secretary
Cindy Dietz (Collins Aerospace, Cedar Rapids) – Immediate Past Chair
Executive committee members were also elected, including returning members Andy Bramstedt (SSAB, Muscatine), Peter Voorhees (Standard Golf, Cedar Falls) and Bruce Tamisiea (Tecton Industries, Spencer). New executive committee members are Casey Cason (Wells Fargo, Des Moines) and Kellan Longenecker (General Mills, Carlisle).
The ABI Executive Committee is comprised of business leaders from across Iowa who provide leadership and direction for the board of directors and ABI.
Newly elected board members include:
Tim Coonan (Davis Brown Law Firm, Des Moines)
Robert Feeney (Atlantic Bottling Company, Des Moines)
Karen Harrison (Hard Rock Hotel and Casino, Sioux City)
Adam Steen (Syverson Strege, West Des Moines)
Jenny Steffensmeier (Steffensmeier Welding, Pilot Grove) was selected by the 2019-20 Leadership Iowa class to serve as an honorary board representative.