ABI Annual Conference Expected to Draw 550 Business Leaders to Iowa City/Coralville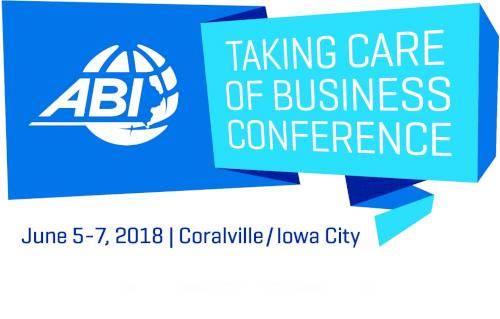 An estimated 550 Iowa business leaders will converge in Coralville on June 5-7 for the Iowa Association of Business and Industry's (ABI) annual Taking Care of Business Conference. The conference will be held at the Coralville Marriott Hotel & Conference Center.
"If you're passionate about business in Iowa, you need to attend this conference," said Mike Ralston, ABI president. "Companies often bring their entire leadership team."
The Taking Care of Business Conference is Iowa's premiere statewide business conference. It brings together the state's most influential industry leaders to learn, network and share ideas on growing Iowa's business climate.
"No other event in Iowa attracts as many decision-makers looking to learn and network," said ABI Board Chair David Zrostlik, president of Stellar Industries in Garner.
The theme for 2018's conference is Iowa's place in the global economy. The conference will feature world-class speakers, including New York Times best-selling author Marc Goodman, geopolitical strategist Peter Zeihan, and supply chain management expert and experienced mountain climber John (Andy) Anderson.
Iowa business experts will lead 18 workshops on everything from cybersecurity to workplace wellbeing.
More than 500 Iowa business leaders attended the 2017 conference in Dubuque, including executives representing 250 businesses and organizations.
"We're proud to bring the Taking Care of Business Conference to the Iowa City/Coralville area," said Zrostlik. "The Creative Corridor is an economic engine for Iowa with its manufacturing, educated workforce and creative culture."
Attendees will also take advantage of regional gems, including the gorgeous Brown Deer Golf Club and the iconic Kinnick Stadium, home of Iowa Hawkeye football. They will also have a chance to participate in exclusive, one-of-a-kind tours, including HNI/Allsteel headquarters, Kinze Manufacturing, Modern Companies and Rockwell Collins.
Business leaders interested in attending the conference can learn more and register by visiting www.abitakingcareofbusiness.com.