What A Ride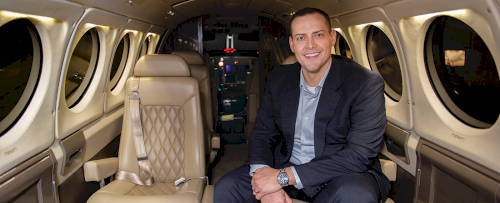 Whether it involves travel by trains, planes, automobiles or another means, infrastructure is vital to Iowa business. In a typical year, modes of travel throughout the state are busy with passenger, industrial, commercial and retail traffic. In 2020, Iowa's roads, rail and airways were quieter due to the COVID-19 pandemic. The challenges of the past year brought on new transportation trends and a renewed focus on the condition of Iowa's infrastructure. There are more public road miles in Iowa than interstate miles in the country. Iowa has long been one of the top states for its high number of road miles because of its agriculture industry. Cities and counties began paving roads so farmers could transport their goods to market. Nobel Peace Prize winner Norman Borlaug learned about the importance of roads for agriculture while he was growing up on his family's farm near Cresco in the early 1900s. When Borlaug was studying ways to increase agricultural production in countries like Mexico, Pakistan and India, he taught the people the importance of roads. He credited much of the success of his Green Revolution to the creation of paved roads in those countries. Back in Iowa, the state's robust transportation system includes three major interstates, thousands of miles of highways, 4,000 miles of rail freight track, eight commercial service and 98 general service airports, and 60 barge terminals. Each year, $300 billion worth of goods are shipped to and from the state, according to the Iowa Department of Transportation (IDOT). That travel requires a considerable amount of maintenance to roads, tarmacs, railways and the like. The 2019 Report Card for Iowa's Infrastructure from the American Society of Civil Engineers (ASCE) gave the state a grade of C. Roads and rail received a C+, while airports earned a C-. A grade of C means the system is in fair to good condition, shows general signs of deterioration and requires attention. Some systems show significant deficiencies with increasing vulnerability to risk. Bridges received a D+ for poor to fair condition, as many approach the end of their service life. The latest iteration of Iowa in Motion, an IDOT initiative to invest in transportation improvements, is scheduled for completion in 2022. The plan is updated every five years to keep abreast of trends and needs and addresses federal and state transportation investments. As of 2015, the 20-year funding shortfall for roadway maintenance and improvements was $32.5 billion, and the annual shortfall was $1.6 billion, according to the IDOT. In terms of rail, approximately $205 million in public funds was spent in 2018 to maintain and improve infrastructure in the state. Iowa's rail industry has been steadily upgrading lines to increase capacity and carry heavier cars. But more investment will be needed in the future, according to the ASCE.
The aviation system will require upgrades as well, as demand for commercial and private service continues to increase. Infrastructure plans and long-range needs sit at about $820 million over the next 20 years. The largest need will be airport pavement maintenance and runway construction, at $511 million.
TAKING FLIGHT
Exec 1 Aviation, located at the Ankeny Regional Airport, is a fixed base operator that operates light jets for private service flights and serves as a brokerage with a network of 3,500 aircraft nationwide. The company operates out of a private terminal with a staff of 22 IS-BAO-certified pilots who fly to airports across the continental U.S. The company's fleet includes Beechjet 400As and Hawker 400XPs as well as a turbojet King Air B200. Most of the airplanes seat up to eight people. Customers hire the jets to get to meetings and trade shows across the state and country because private jets allow business travel to be faster and more efficient.
"We're considered a floating fleet so our aircraft can be in any location on any day across the country," said John Pugh, vice president of business development at Exec 1 Aviation. Iowa's aviation infrastructure seems adequate, he says.
He doesn't hear complaints about state taxiway conditions from pilots or mechanics on staff. Improvements, though, are always welcome, Pugh said.
"We just went through a runway expansion project a year and a half ago that certainly makes it easier for aircraft like ours and the larger aircraft to get in and out of Ankeny," he said. "When they do those projects, it certainly helps out."
Exec 1 has experienced steady growth, especially during the past year. Although business flights decreased, the company has seen an uptick in retail flights from nonbusiness passengers who wanted to avoid commercial airports and airlines.
"We just did a really good job of pivoting," Pugh said. "We adjusted our pricing to be more competitive and ticked up more brokers that were flying for personal use for vacation travel, or I need to get my sick mom up from Scottsdale, or I need to get my sick dad to his second home in Naples, or whatever it may be, because they didn't want to fly commercial."
The number of people wanting to use Exec 1 for noncommercial flights continues to grow, he said. Meanwhile, business travel is slowly starting to come back as the pandemic and lockdowns taper off.
"Even with the use of Zoom and Skype meetings and things like that, people are craving to be in person and meet," Pugh said.
ON THE FAST TRACK
Union Pacific transports freight across the state — from ethanol to corn, soybeans and oats, as well as millions of tons of coal to utility and agricultural-based customers. The company's rail routes extend from Council Bluffs to the Quad Cities, from Mason City to the southern border, and crisscross through much of northwest Iowa. On a larger scale, the east-west line connects Chicago to the West Coast and the north-south line connects Minneapolis to Kansas City. Union Pacific invests significantly in the state. The company employs 1,381 people in Iowa, for an annual payroll of $195 million.
When it comes to rail infrastructure, Union Pacific spent $430 million from 2015 to 2019 to improve railways, including new ties and maintenance to rails and bridges.
The ASCE estimates rail movement to increase 27% by 2040 in the state. To improve Iowa's rail infrastructure, Iowa needs more grade separations, such as overpasses, said Kelli O'Brien, Union Pacific's senior director of public affairs for Iowa, Minnesota and Nebraska. Other public projects could include public or private crossings, surface renewal projects, track realignments and quiet zones.
ON THE ROAD AGAIN
Growth in population, traffic and urbanization are expected to increase the stressors on Iowa's 114,800 miles of roadway in coming decades. One business owner whose company uses those roads daily says he's in favor of continued investment in maintenance and improvements.
Jeff Greteman is president of Windstar Lines, a luxury motorcoach company providing charter service and route service from and within Iowa. The company operates from four locations in Iowa, at Des Moines, Cedar Rapids, Dubuque and its corporate home in Carroll.
Windstar Lines transports thousands of passengers over 2 million miles annually on Iowa roads, primarily on interstates and highways. Greteman said it's time to expand U.S. Highway 30, as well.
"Iowa needs to continue to invest in our roads and bridges," he said. "We need more four-lane highways, including all of Highway 30, to make travel efficient, smooth and safe. Continued investment in our roads will only help make Iowa a great place to live."
It would be a mistake, however, to invest in passenger rail, he said.
"What Iowa does not need is costly high-speed passenger rail," Greteman said. "Billions would be spent on something only a handful would use. There is already plenty of options for intercity travel that doesn't require any additional cost on Iowa's constituents."
When it comes to paying for major projects, he questions who will pay for the proposed federal infrastructure plan.
"The federal infrastructure plan has many great points like fixing highways and rebuilding bridges," he said. "But there are many items in the plan that the cost benefit will not pencil out. And the big question is how do we pay for all of this? Tax revenues are down due to COVID-19, and inflation is going to be out of control if the government keeps on borrowing money to pay for all of this."
President Joe Biden's infrastructure plan calls for $2 trillion to be spent on a variety of projects, including fixing 20,000 miles of roads and10,000 bridges. Republicans in Congress have countered with a $568 billion plan of their own.