Recruiting Veterans: A smart tactical maneuver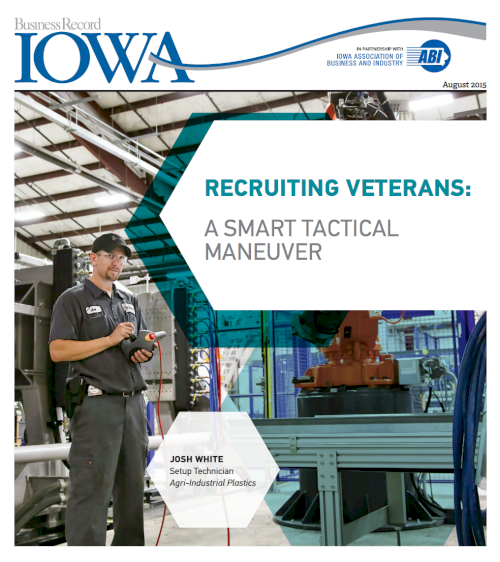 When Josh White accepted a summer help position at Agri-Industrial Plastics in Fairfield after high school, he never imagined he would still be working for the company 12 years later.
White joined the National Guard when he was 17 and served for 10 years, including a yearlong deployment to Iraq in 2005.
He and his boss, Agri-Industrial President Lori Schaefer-Weaton, agree the skills he learned in the military have positioned him well for a leadership role on the manufacturing floor.
"I think there are a lot of skill sets that are a good match between military training and manufacturing," Schaefer-Weaton said.
"He knows how to troubleshoot problems on his own and works well under pressure," she said. "Constantly in manufacturing we're working under deadline and have to get parts out the door. Keeping a cool, calm, level mindset is really important."
A large troop drawdown of between 300,000 and 1 million military personnel is anticipated in the coming years, providing ready and willing employees to fill critical workforce needs in manufacturing and other industries.
"When you think about it, the military has every skill set you could ever want," said Robert Myers, chairman and CEO of Casey's General Stores, who served in the military for 22 years. "It is a microcosm of the skill sets necessary in civilian careers."
Iowa companies, state agencies and other organizations are increasingly working together to help match these veterans with career opportunities. Employers and state officials hope that these efforts and initiatives like Home Base Iowa turn our state into a top destination for military personnel and their families.
"From a workforce perspective, we have a huge need for skilled people, and here is a very large pool of talented, qualified individuals with leadership and other skills that we would greatly benefit from," said Paul Gregoire, ABI chairman and global vice president of human resources for Emerson/Fisher in Marshalltown. "If we've got access to that pool, why would we not want to make Iowa their preferred place to be?"
Iowa Economic Development Director Debi Durham agreed that recruiting and retaining veterans is one way to address Iowa's ongoing worker shortage.
"We routinely have a very low unemployment rate and low population growth," Durham said. "In order to support businesses, we're going to need to make sure we identify and fill the skills gap and worker shortage we have in our state. Transitioning military members into positions that are open is one way we can address some of these issues we are facing now."
During his more than 12-year career at Agri-Industrial Plastics, a custom industrial blow molder, White has been promoted to several positions, including his current job as a setup technician. He plays an important role in helping to implement new technology and machinery at the company.
He credits his time in the military with helping him prepare for his role at Agri-Industrial.
"One of the big things I took away from the military, besides just the general work ethic, were the leadership skills I developed," White said. "I had opportunities to be in charge of people and to lead. That helped me do what I do today."
In the National Guard, White worked on high-tech communications equipment, from phones and computers to satellites.
"That signals to me that he has an inclination for that," Schaefer-Weaton said. "There's a skill set there, and an aptitude to learn different machines."
Many employers and military leaders agree that the discipline and leadership skills gained while serving in the military are difficult to replicate in civilian life. The technical skills can be taught.
"We'll take those strong leadership and organizational skills that are honed in the military, and we can teach them how to do machining," Gregoire said.
In fact, Emerson/Fisher, a control valve manufacturer in Marshalltown, has developed a three-week manufacturing/machining supervisors course to do just that.
The company worked with military recruiters and hired three employees with a military background who will complete the training program and begin their careers at Emerson/Fisher in leadership roles.
Plant Manager Ross Harris, an Army veteran himself, said he tries to replicate some of the military culture at the Marshalltown facility.
"I tell everybody they're a victim of my time in the military, because I don't want to be anything but the best," Harris said. "You try to carry that over to the people you hire. You find military people who, regardless of the branch they were in, have the same drive and passion. They jump in with both feet."
Harris also tries to emphasize the teamwork necessary for his employees and his company to be successful.
"The thing you absolutely miss the most is the team. That's just so hard to replicate coming from the military," Harris said. "Getting people to recognize that you have to rely on the person to your left and the person to your right, just like you do in the military to survive; in this case you have to rely on those people to be successful, for the business to survive and grow."
Many companies have already implemented veteran hiring initiatives, says Ray Rodriguez, a program support specialist at Employer Support of the Guard and Reserve, or ESGR.
"Now that these wars are ending, companies are paying particular attention to the potential employees available to them," Rodriguez said.
Some, such as Wells Fargo, highlight their commitment to hiring veterans on the home page of their careers website.
Rodriguez and his colleagues help companies implement and improve their veteran hiring initiatives and work with other organizations to help connect veterans to jobs. Through the Hire Our Heroes program, ESGR and the U.S. Chamber of Commerce Foundation host about 400 military job fairs annually.
One such job fair in January included about 60 employers and more than 110 job-seekers, Rodriguez said. Fourteen people were offered jobs during the event alone.
In addition to companies bolstering their efforts, state leaders have made several legislative changes in recent years as part of the Home Base Iowa initiative to make the sate more appealing to veterans and their families.
On Memorial Day in 2014, Gov. Terry Branstad signed into law the Home Base Iowa Act, which eliminated the income tax on military pensions, created a homeownership assistance program that provides veterans with up to $5,000 in assistance, and allowed for automatic instate tuition for military personnel and their families.
"Before that, we were doing things that put us at a competitive disadvantage when it came to attracting veterans," said Myers, of Casey's General Stores, who serves as co-chairman of the Home Base Iowa program.
"We went from being a vets-unfriendly state to a vets-friendly state overnight," he said.
For Myers, the desire to recruit and create more opportunities for veterans comes in large part of out of a sense of responsibility.
"I saw a great need," Myers said. "The outflow of military men and women was unprecedented. These were people who we'd asked to go to combat over multiple tours. We couldn't send them out to pasture."
In addition to the legislative changes, Home Base Iowa has created a special designation for communities and counties that agree to provide incentives above those offered by the state, and representatives for the organization work to actively recruit veterans to the state and connect them with careers here.
Maj. Gen. Tim Orr of the Iowa National Guard, who played a critical role in Home Base Iowa's implementation, hopes to take the efforts a step further and connect military personnel with career opportunities right out of high school.
Orr hopes to work with companies who are willing to provide students who enter the National Guard internship and career opportunities once they receive the necessary education.
Because of their service, the students' education would be paid for by the state.
"Now you've not only given them an education, but the promise of a career once they graduate," Orr said.
Orr sees that as a winning scenario for everyone. Students receive an education and a career, and employers are able to identify and fill their own workforce needs. Plus, military personnel who stay or move to Iowa add instant readiness to the Iowa Guard, he said.
"What better group of people would you rather have in the state if you were going to bring people here?" Orr said. 'These are folks who want to make a difference, who've already made a difference overseas and in their communities."