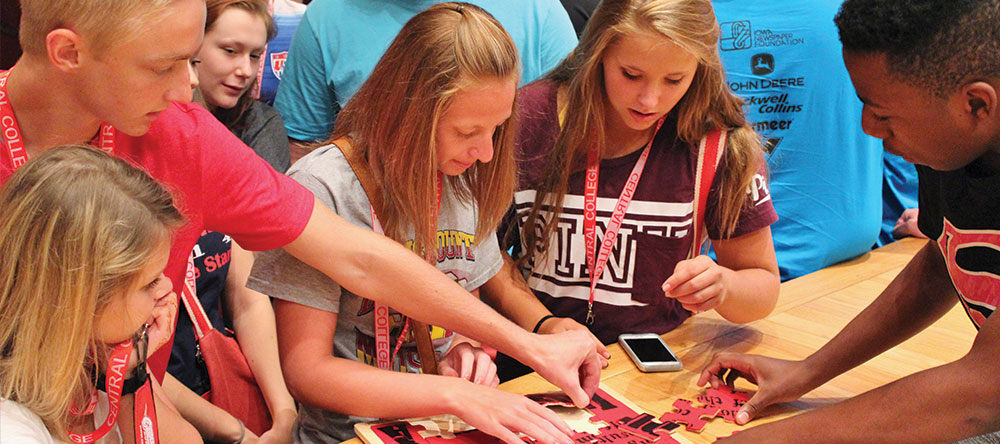 For Educators
For nearly 40 years, Business Horizons has been partnering with high schools and educators to provide students with an exceptionally unique experiential learning opportunity. We share a common goal to prepare our students with the career-ready skills to be the future leaders of our state, and to find continued success here after high school in any field they choose to pursue.
Business Horizons forges the connection students need to make between concepts learned in the classroom and their real-world application. It is our hope that attendees bring the skills and ideas gained during Business Horizons back to your schools, along with a renewed motivation and vision for their future.
Offering this opportunity to your students
All Iowa students currently in grades 9-12 are welcome to attend, regardless of career interest. From forward-thinking students who are eager to set themselves apart and thrive in new situations, to those who show leadership potential but are unsure of their direction after high school – everyone has something to gain from Business Horizons.
Your guidance and influence is a tremendous help in encouraging students to take advantage of this worthwhile opportunity. Here are a few ways to promote Business Horizons in your classroom:
SHARE the Business Horizons opportunity with students and families by sharing the application and materials. There are also several program videos we invite you to show in your classroom that share more about the program from the student perspective!
NOMINATE students for the program online. We will then reach out to the nominee(s) with information regarding this summer's program.
REQUEST additional materials or a visit from one of our staff members. We'll come speak with your students about the benefits of attending Business Horizons or conduct a workshop.
PROVIDE students with information regarding the additional incentives from attending, such as earning college credit and/or a scholarship to the host institution. You can find more benefits and the week at a glance on the Students page.
The ABI Foundation staff often sends multiple mailings throughout the spring to all high school educators, counselors and administrators with details regarding the upcoming program. This includes valuable information, including the discount deadlines for early applicants. To keep up with the latest program information, contact us to be added to our email list.
Financial Assistance
Every student across the state should have the opportunity to attend Business Horizons, therefore no student will ever be turned away due to the inability to pay the program fee. We are happy to work with students and their families to provide program scholarships based on financial need. These scholarships are provided by our generous program sponsors and often result in new partnerships between companies and their local high schools. If you would like more information or if you have a student who would like to attend but may need financial assistance, please feel free to contact us.
Visit Business Horizons for "Educator Day"
You are invited to join us this summer! The ABI Foundation and the Jacobson Institute for Youth Entrepreneurship are partnering up to provide a unique professional development opportunity for Iowa educators. On the final day of the program, experience the excitement alongside students and volunteers as teams finalize and deliver their pitches. Attendees will also learn about additional in-classroom curriculum and resources. For those interested, graduate credit is available with extended coursework at an additional cost through the University of Iowa. Contact us for more information.