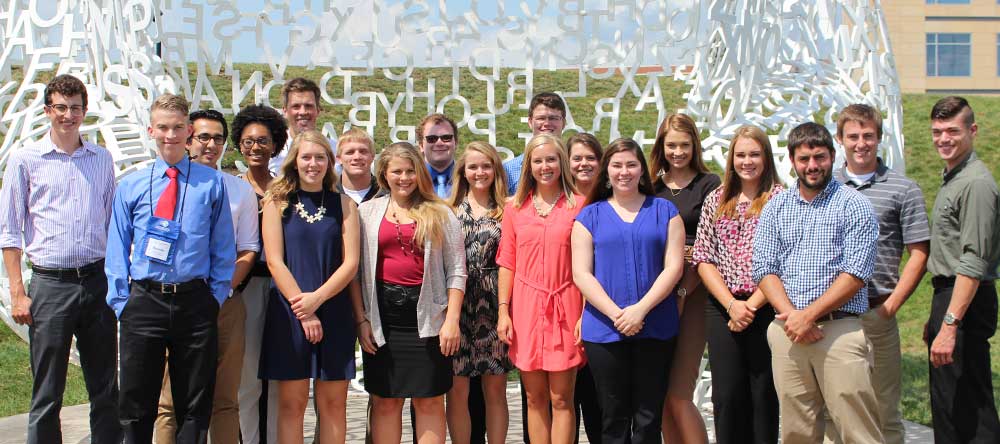 About
Leadership Iowa University (LIU), a program of the Iowa Association of Business and Industry Foundation, is designed to bridge the gap between college and career, and assist emerging professionals and leaders along their path to personal and professional success. The program connects students with a multitude of Iowa professionals and provides an introduction to the diverse array of experiences they can gain here in the state.
2023 Program
The 2023 program will take place August 6-10 in the Des Moines area. Participants are provided with overnight accommodations Sunday through Thursday. Attendees are required to participate in all scheduled programming throughout each day. The program begins at approximately 1:00pm on Sunday and concludes at 3:00pm on Thursday.
Eligibility: Participants must have completed their freshman year of college prior to attending LIU. Applicants must currently be enrolled in an Iowa college/university or be interning for an Iowa company during the summer of 2023. Students who graduate in May of 2023 may apply. Please feel free to contact us with any questions.
Program Expectations
The 20-30 participants accepted into our program annually gain the knowledge, tools, and inspiration to be successful in Iowa while rediscovering what makes our state an ideal place to work and live.
Throughout the week, participants can expect to:
Build Your Brand: We'll dive into where the endless possibilities and your passions meet, uniting and optimizing your talents, strengths and skills.


Grow Your Network: In just 5 days, participants have the opportunity to connect with many Iowa professionals of diverse backgrounds, interests, and occupations.


Take Your Next Step: Learn about Iowa's top industries through organizations doing meaningful work they're proud of and excited about – and you will be, too!
The connections made with professionals, as well as relationships built with one another, often have a lasting impact on participants. As business and industry navigate ever-changing needs, LIU is designed to help equip our state's young professionals and emerging leaders respond to these needs.
Expanding Upon the Experience
After participating in the program, LIU attendees can take advantage of a significantly expanded network of Iowa professionals, as well as a direct connection to Iowa's largest business organization, the Iowa Association of Business and Industry. After their participation, students may request to be paired with a mentor. This individual will be carefully selected by ABI Foundation staff to assist with the student's personal and/or professional goals.
Participants will also be invited to convene at the Young Professionals of Iowa (YPIowa) Conference. Each year, the YPIowa Conference is a can't-miss event for young professionals in our state, and includes a day of valuable break-out sessions, dynamic speakers, and networking opportunities. The ABI Foundation is a proud partner of YPIowa.
For more information on the application process and program cost, click here. With any additional questions, please feel welcome to contact us.