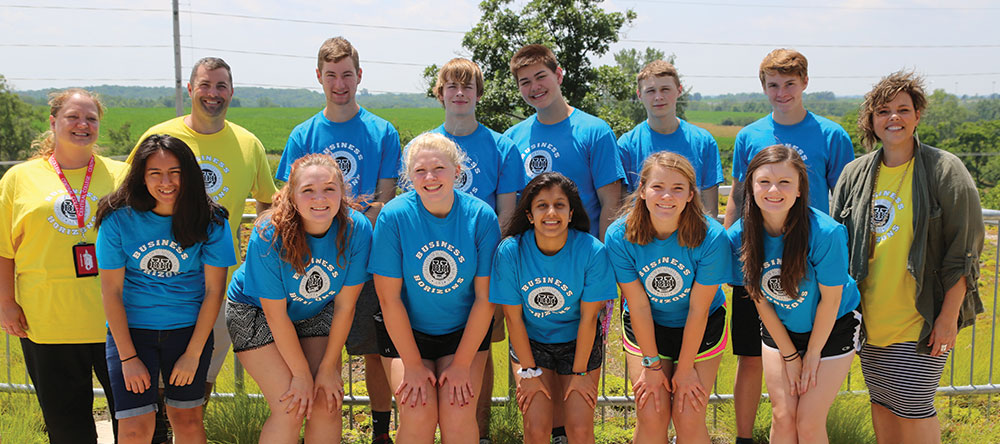 Impact of BH
More than 5,000 Iowans have participated in the Business Horizons experience. Those individuals have grown to be CEOs, entrepreneurs, community leaders and so much more. Business Horizons continues to work as a catalyst for Iowa's bright future by serving individuals and communities across the state with its impactful programming.
Impact on Students
After experiencing the fast-paced, real-world work environment of Business Horizons, students are better equipped with the skills they need to be successful in the classroom, the workplace and in life. Students gain self-confidence and unique insight into the world of business and the entrepreneurial mindset. A student's participation in Business Horizons often leads to a heightened awareness of their strengths, goals and abilities, as well as a more well-defined direction for their future. Students gain mentors in the many Iowa professionals who volunteer for the program, and in return, our volunteers are provided with an optimistic perspective of our state's future workforce.
Impact on Communities
It is not only the participants who are impacted by Business Horizons, but also the classrooms, extra-curricular groups and communities in which our participants are involved with every day. Business Horizons fosters entrepreneurial thinking, encouraging students to use their leadership skills to step up, get involved and take charge. Students experience the importance of problem solving, out-of-the-box thinking and civil discourse amongst a diverse team and recognize that these skills are a necessity to succeed in today's society. Students leave Business Horizons as empowered young leaders with new ideas, and they continue to discover new ways to make positive change in the world around them.
Impact on Iowa
In all that we do at the ABI Foundation, making Iowa the best place to live and work is always top of mind. Through the Business Horizons program, our goal is to develop the individuals and young people who will become Iowa's future corporate professionals, government officials, educators, civic leaders and more. The program connects students to mentors who have found success here in Iowa, and provides participants with a look at the vast amount of opportunities available to them so that they may begin to visualize their life in Iowa as a young professional and beyond.